About Dale Roberts
A Multi-Vocational Professional Life Coach and Handwriting Analyst
Certified Professional Life Coach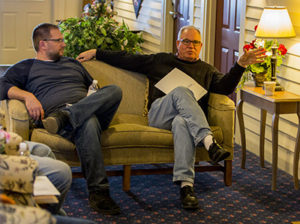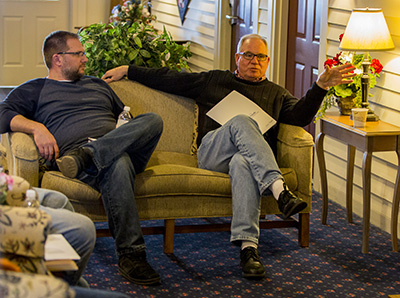 With all of the unusual accomplishments Dale has achieved during his lifetime, from a successful career as a financial advisor, to professional speaking, to commercial acting, to handwriting analysis, Dale has always had the sense that there was something more he was "called" to do.
That call began to become clear when a door opened for Dale in 2003, with the opportunity to experience the "Life Plan" process, an intense two day, one-on-one session which is based on Tom Paterson's excellent book "Living the Life You Were Meant to Live." Life Planning takes a person deep into exploration of one's life purpose, and Dale was so intrigued by that process that in 2004 he became a Life Plan Facilitator. He has facilitated the Life Plan process for many clients over the past fifteen years and says, "I have never felt more called!"
But somehow Dale felt there was still one more "piece of the puzzle" missing. That piece, he discovered, was Professional Life Coaching. Dale received his training and certification as a Professional Life Coach through Professional Christian Coaching Institute, and the puzzle was complete. His 30 years of working in financial services, honing his handwriting analysis skills, practicing the Life Plan process, writing, speaking, coaching, and volunteering in ministry to men and families affected by disability, all came together to bring Dale to this point in time.
Here's what Dale says about his calling – Professional Life Coaching:
"Coaching" is all about transformational change – discovering the purposes for which you were born, using the 'gifts' and talents you've been given, and bringing them to the fruition of a life of significance that has been well lived.
Regardless of the 'season of life' you are currently in: mid-life, empty nest, pre-retirement, or post-retirement, that next season is just around the corner and will be here faster than you think.
It's my passion, pleasure and calling to bring you all the tools I have learned over the past 40 years to help you transform your own life into the one you were meant to live.
I love to talk. I love to listen. My greatest blessings come from interacting with and building into people. And I hope that your life, your relationships, and your business will all be better because you've invited me into them."
Contact Dale today to learn more or to schedule your Complimentary Informational Session.
Handwriting Analyst
Dale has been a professional handwriting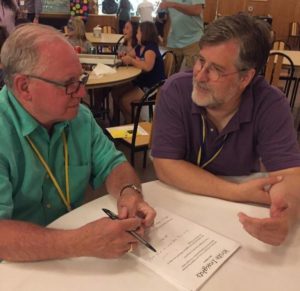 analyst since 1982, but it all began in 1976 when his own handwriting was analyzed as part of the employee selection process for a major financial services company. He was so impressed and intrigued by the accuracy of the report, he wanted to learn more. When Dale met Father Anthony Becker, a priest who held a PhD in Clinical Psychology and was also a Master Graphologist and past president of the American Association of Handwriting Analysts, Dale jumped at the opportunity to learn from him. He also co-authored the book "Handwriting Analysis 101" with Pat Peterson, the late renowned internationally known graphologist.
Dale has analyzed literally thousands of handwriting samples for individuals seeking personal growth and insights, as well as employers seeking to know their applicants and employees better. Large corporations hire him to draw people to their booths at trade shows and conferences, to build relationships with and improve communication among their top management teams, and to build and foster relationships with current and potential customers.
Many people find handwriting analysis a fascinating topic. Since 1987, Dale has presented his "Write Insights" program to dozens of groups and associations around the country. Government agencies like the Social Security Administration and FDIC, as well as civic groups and corporate clients have utilized his services. Local law enforcement, law firms, and security companies have called on Dale for help with questioned documents.
Dale's ability to communicate what handwriting means in an educational yet entertaining way has brought him attention from the media. He's been interviewed for numerous magazine and newspaper articles, and has been a guest on radio and television programs such as Chicago's WGN-Radio and ABC's "Windy City Live". Listen now to Dale's most recent appearance, a Podcast on Curiosity.com
Dale is based in suburban Chicago and frequently travels throughout the country giving presentations and doing Handwriting Analysis for both business and personal events. Contact Dale today to learn more!
More About Dale
Dale's experience and credentials are extensive. Here's just a bit more about his background.
Graduate of Northern Illinois University, B.S. Journalism – 1976
Financial Advisor – Northwestern Mutual – 1975 to present
Professional Handwriting Analyst– 1982 to present:
Training through:
Father Anthony Becker – Charter President, American Association of Handwriting Analysts
Pat Peterson – Author – "Fast Facts", "Handwriting Analysis 101", Executive Board Member of AAHA, Board of Directors of Human Graphic Society, Member National Society for Graphology,  Member American Handwriting Analysis Foundation
Paterson Lifeplan Facilitator – 2004 to present
Certified Professional Life Coach - 2017 to present
Training and Certification
Professional Christian Coaching Institute
International Coach Federation
Member -  Christian Coaches Network International