HANDWRITING ANALYSIS:
A FUN WAY TO ENGAGE GUESTS
AT TRADE SHOWS AND EVENTS
"DALE ROBERTS IS THE BEST!"
Scroll down to see why!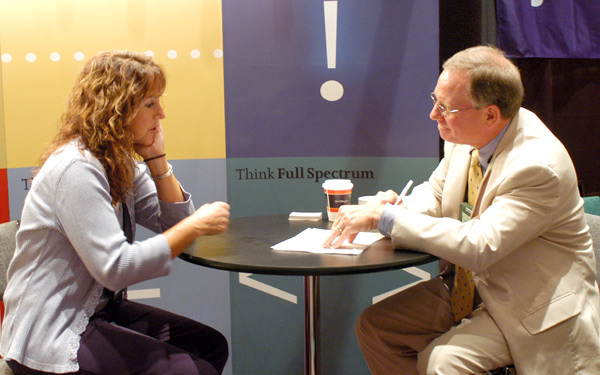 Draw Them, Keep Them.
We all know the value of attendees at trade shows and corporate events. The passer-by could be your best customer worth years of revenue if only they'd stop in.
Add an element of fun, mystery and education to your booth. Dale Roberts is sought after for his ability to make a lasting impression in the minds of trade show attendees.
Draw them in with the allure of learning something interesting about themselves. Keep them in the booth while they wait their turn for something they really want.
Pictured: Dale analyzing the handwriting of a visitor at an Aon Hewitt booth.
Who is Dale Roberts?
Dale is a sought-after graphologist – a handwriting analyst – with over 30 years of experience in the practice, working at trade shows, conferences, corporate events and private and civic functions. He learned from the best: Father Anthony Becker, the founder of the American Association of Handwriting Analysts, and is the co-author of "Handwriting Analysis 101". He's also a commercial/industrial film actor, print model, television hand model, trade show spokesman and narrator, including the radio program "Unshackled. This powerful combination of talents creates a unique draw at trade show booths and a fun ice-breaker at corporate meetings.
Dale lives in the far western Chicago suburbs with his wife, Karen, and is the father three grown children. He's passionate about making a difference in the lives of all those he meets. See for yourself. Contact him today.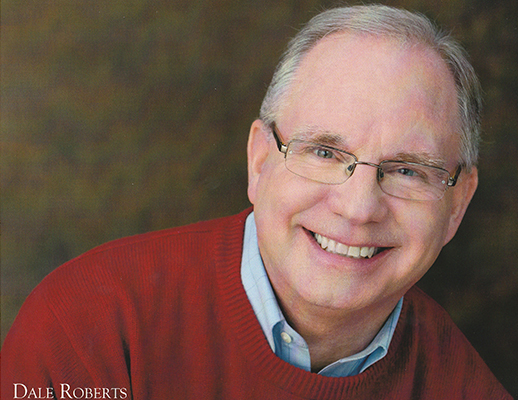 "Dale is just who I was looking for!"
I have seen many gimmicks – some very expensive – used by both our team and our competitors over the years to attempt to draw attendees to exhibits; I do not recall ANY other attraction, "star appearance" or other strategy that provided us with the quality leads, quality (and often lengthy!) discussions with prospects that your presence in our booth offered. Nor do I recall ever receiving such enthusiastic appreciation from conference attendees (and even competitor exhibitors) who had heard about you. I want to thank you for your world-class ability to draw attendees to our booth when competition for attendees' time was so intense.
A Partial List of Dale's Clients
ABN/Amro Bank
Allstate Insurance
Chicago Plumbing Council
Chrysler Corporation
General Motors
Ford Motor Company
Federal Deposit Insurance Corporation (FDIC)
Aon/Hewitt
Aralez Pharmaceuticals
CIP Marketing
LaSalle Bank
Parade Magazine
Sara Lee Foods
Social Security Administration
Meade Paper
"Infotainment"
Dale explains why people enjoy talking to him when he's working at a trade show booth or at a corporate or civic event.
His audience – whether a single person during a personal analysis or a large group during a seminar – is engaged and fascinated. Why? Because it's all about them.
Dale shows them something about themselves that they may not know, and does so in a way that's fun and memorable. He can tell you best. Watch the video.
Visit our contact page and ask Dale how he can help you and your organization. Tell him the name of the event, the date, and how many people you expect, and Dale can tailor a presentation especially for you.